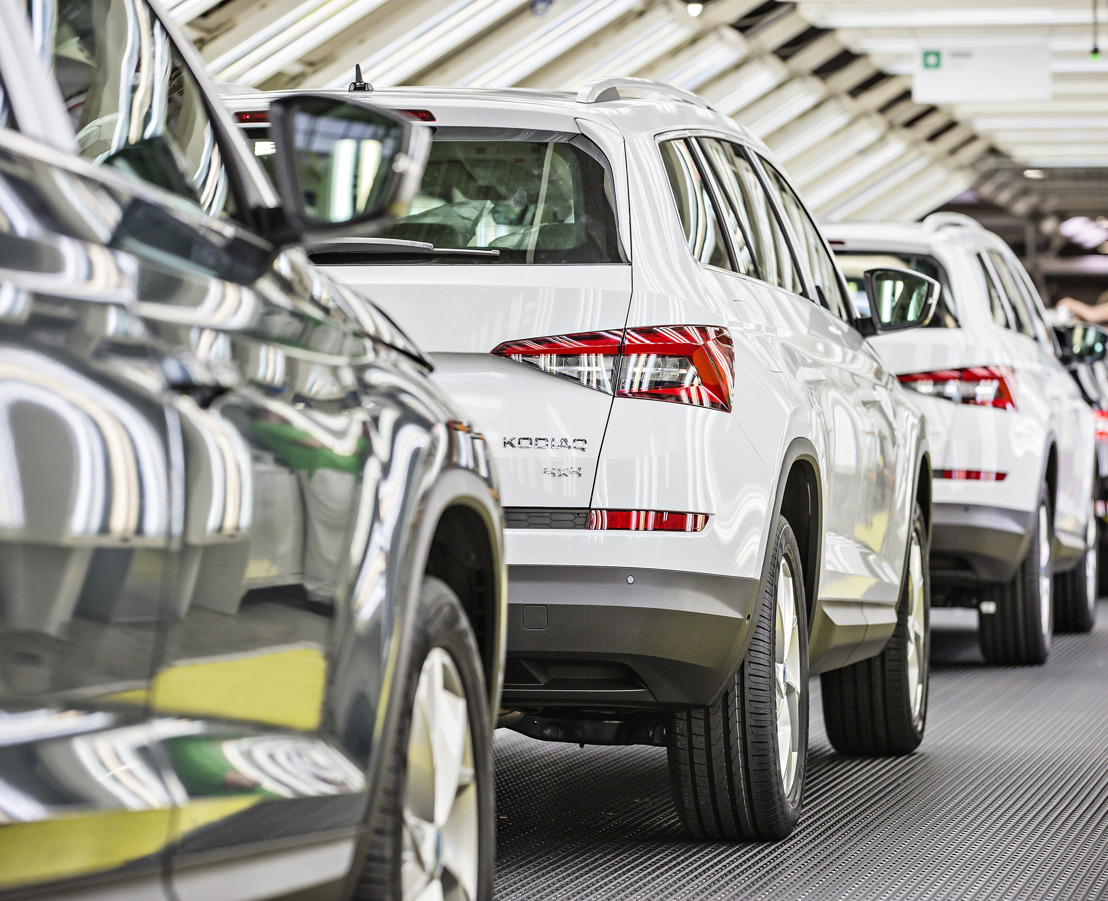 70 years of ŠKODA car production in Kvasiny
Tuesday, October 17, 2017 —
› ŠKODA SUPERB was the car manufacturer's first vehicle to be produced in Kvasiny
› A pillar of the ŠKODA AUTO production network: three ŠKODA models, around 8,000 employees
› The Kvasiny plant is one of the most significant employers in the Hradec Králové region
› Production capacity will increase to more than 300,000 vehicles per year in the future
Mladá Boleslav/Kvasiny, 17 October 2017 – ŠKODA AUTO is celebrating 70 years of ŠKODA car production in Kvasiny. ŠKODA vehicles have been rolling off the production line at the Kvasiny plant from as early as 1947. Today, approximately 8,000 employees produce around 1,000 cars each day. In early 2017, the brand's two-millionth vehicle was made here. In the future, more than 300,000 vehicles are to be produced at the location in Eastern Bohemia every year – to this end, ŠKODA AUTO is constantly modernising the plant.
"Kvasiny is a state-of the-art plant with a rich tradition and an excellent, highly competent workforce," said Michael Oeljeklaus, ŠKODA AUTO Board Member for Production and Logistics. "As a key part of the production network, our plant in Kvasiny is playing an important role in achieving the production targets defined in our 2025 Strategy. In the coming years, the plant's annual production volume will increase further. To this end, we are investing heavily in the location and are upgrading Kvasiny to a production competence centre – for SUVs amongst other things," added Oeljeklaus.
Cars have been built at the production site in Eastern Bohemia from as early as 1934; ŠKODA commenced production in Kvasiny with the ŠKODA SUPERB 13 years later – even back then the car was the brand's flagship. Subsequent years saw further models being made here, including the FELICIA (1958 to 1964), the 110 R Coupé (1970 to 1980), the PICK-UP (1995 to 2001), the first and second generations of the SUPERB, and then the ROOMSTER and the YETI.
Currently, the ŠKODA AUTO plant in Kvasiny is undergoing the largest modernisation and expansion in its history. As part of the SUV campaign, which began with the ŠKODA KODIAQ, the manufacturer will invest a total of around seven billion Czech korunas in modernising the production processes. In the next few years, the production capacity will increase to more than 300,000 vehicles per year. Today, ŠKODA's SUPERB and KODIAQ models are made here, as well as the newly developed compact SUV, the KAROQ. The ŠKODA AUTO plant in Kvasiny produces also the SUV SEAT ATECA.
In 2016, the workforce was augmented by a further 2,600 employees. ŠKODA AUTO currently employs around 8,000 members of staff in Kvasiny, making the company one of the region's largest employers. In addition, the car manufacturer invests in regional infrastructure measures and promotes the appeal of the location by pursuing a variety of social endeavours.
Catherine Van Geel PR Manager, D'Ieteren NV