Production start for the comprehensively upgraded ŠKODA OCTAVIA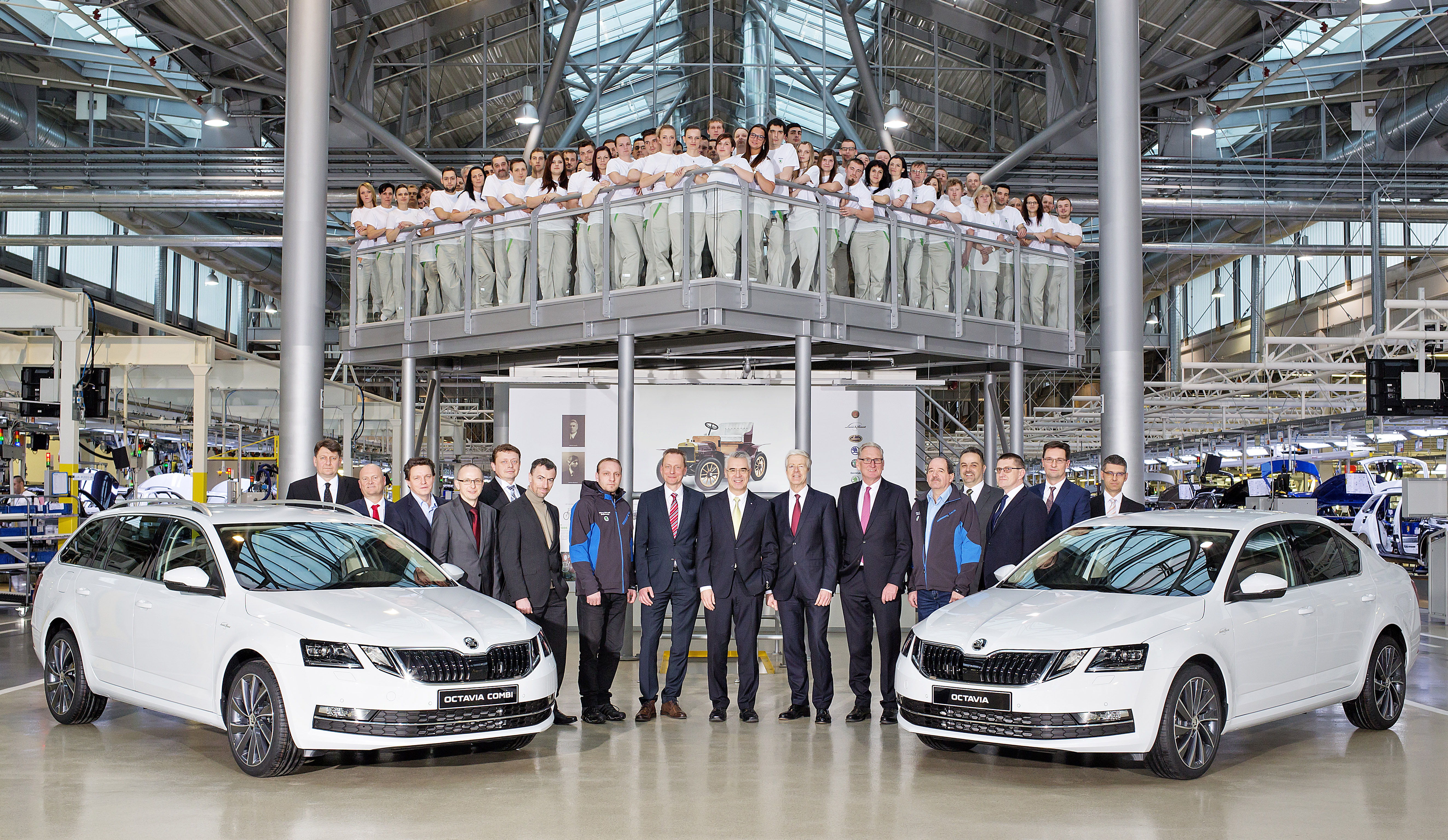 › Upgraded ŠKODA OCTAVIA runs off production line at main plant in Mladá Boleslav
› 'Heart of the brand' with fresh design and innovative technologies
› More than five million ŠKODA OCTAVIAs delivered to customers since 1996
Mladá Boleslav, 8 February 2017 – The production of the comprehensively upgraded ŠKODA OCTAVIA was launched at the main plant in Mladá Boleslav today. With newly designed front and rear sections as well as state-of-the-art solutions for driver assistance systems, infotainment and connectivity, ŠKODA will continue the success story of the series. Over the past 21 years, more than five million buyers have opted for a model in the OCTAVIA family.
"With the start of production of the new OCTAVIA, we are looking at the next chapter in the success story of our bestseller. Our entire ŠKODA team, from technical development, purchasing, production and logistics to quality assurance, has again done a great job. The production launch of this model, which is very important for the brand, has been carried out reliably, qualitatively and in a timely manner," says ŠKODA Board Member for Production Michael Oeljeklaus.
The ŠKODA OCTAVIA is now available with newly designed front and rear sections, as well as numerous attractive features. These include, among other things, headlights with full LED technology and other innovative solutions for safety and comfort. In addition, ŠKODA has equipped their bestseller with new connectivity options: ŠKODA Connect mobile online services, which are used for information, navigation and remote access to the car. As all ŠKODA OCTAVIAs, the new generation also sets standards in its segment in terms of space, functionality, safety and comfort technology, design and value for money. With the comprehensively upgraded ŠKODA OCTAVIA, the brand intends to continue the success story of the model series and further strengthen its position in the international markets.
The ŠKODA OCTAVIA is the Czech carmaker's bestselling model. In the 21 years since its launch in 1996, over five million customers worldwide have opted for one of the numerous model versions in the OCTAVIA family. The first generation, which ran from 1996 to the end of November 2010, found over 1.4 million buyers. The second-generation OCTAVIA continued the success of the predecessor: between 2004 and 2013, ŠKODA sold a total of 2.5 million vehicles. The third ŠKODA OCTAVIA generation, which is the most important pillar of the ŠKODA model range, has been manufactured since November 2012. At the end of March 2016, the one-millionth vehicle of this model generation left the production halls in Mladá Boleslav. In total, almost 1.4 million vehicles of the third generation had been produced by the end of last year. In addition to production at ŠKODA's headquarters in the Czech Republic, the OCTAVIA is also manufactured in China, India, Russia, Ukraine and Kazakhstan. In addition, Algeria will be another production location for the upgraded ŠKODA OCTAVIA.