Rally Sweden/WRC3: ŠKODA privateers Emil Lindholm and Oliver Solberg finish second and fifth
February 16, 2020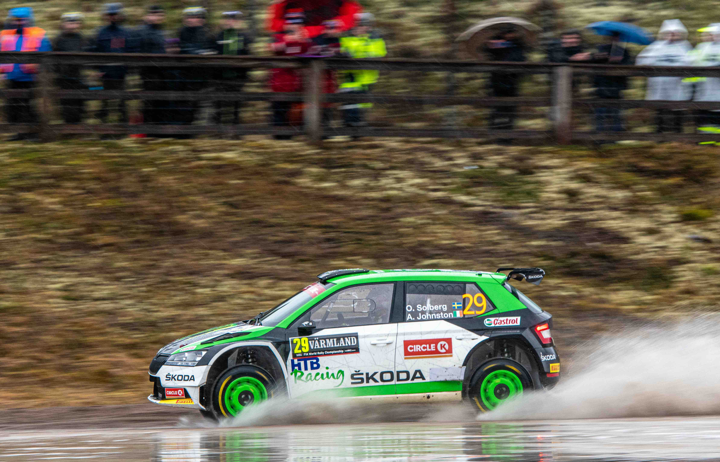 › After thrilling last stage of Swedish world championship round, ŠKODA privateer Emil
Lindholm and co-driver Mikael Korhonen bring home second place of WRC3 category
› A puncture during the last stage relegated Oliver Solberg and co-driver Aaron Johnston
from third to fifth in WRC3 on their debut with the ŠKODA FABIA Rally2 evo
› Seven of the nine finishers of the WRC3 category were ŠKODA crews
Torsby, 16 February 2020 – Because of the unseasonal warm weather, the second round of
the 2020 FIA World Rally Championship was shortened to nine stages covering 148.55
kilometres. But the shortest Rally Sweden (13/02/–16/02/2020) ever saw a nail biting final on
the very last special stage on Sunday. The 21.19 kms of "Likenäs" also brought the decision
in the WRC3 category. Emil Lindholm (FIN) and Mikael Korhonen (FIN), sharing a private
ŠKODA FABIA Rally2 evo, missed WRC3 victory by just five seconds. Oliver Solberg (SWE)
and co-driver Aaron Johnston (IRL) finished their WRC3 debut with the ŠKODA FABIA
Rally2 evo in fifth position after losing third during the last stage due to a puncture.
The organizers of the 2020 edition of Rally Sweden fought heroically against the unseasonal warm
weather and a lack of snow in the Värmland region of Sweden and across the border in Norway.
For a long time, it was not clear, whether the rally could talk place at all. But common efforts finally
secured nine stages covering 148.55 kilometres. On Sunday, only the 21.19 kilometres long
"Likenäs" TV Wolf Power Stage remained. Under heavy rainfalls on mud and ice, the test brought
the decision in a tense fight for victory and podium positions also in the WRC3 category.
The Finnish ŠKODA privateers Emil Lindholm/Mikael Korhonen (ŠKODA FABIA Rally2 evo) were
leading the WRC3 category until stage 7, when they lost the lead to the Hyundai crew Jari
Huttunen/Mikko Lukka (FIN/FIN). During the final 21.19 kilometres of stage 9, they tried everything
they could. But to no avail, they reached the finish five seconds adrift of their rivals.
18 years old ŠKODA youngster Oliver Solberg and co-driver Aaron Johnston started into the
ultimate test on their WRC3 debut with the ŠKODA FABIA Rally2 evo with a tiny lead of 1.1
seconds over former FIA World Rallycross Champion Johan Kristoffersson (SWE, Volkswagen) and
co-driver Stig Rune Skjærmoen (NOR). But with the finish virtually in sight, Oliver Solberg was hit
by bad luck. He collected a puncture, the time loss of 1:53 minutes relegated him to fifth place in
the category.
The Finnish ŠKODA privateers Eerik Pietarinen/Miikka Anttila (ŠKODA FABIA Rally2 evo) finished
fourth in the WRC3 category. ŠKODA's 2017 WRC2 Champion Pontus Tidemand (SWE) and codriver
Patrick Barth (SWE), driving a privately entered a ŠKODA FABIA Rally2 evo of Toksport
WRT Team, conquered third position of the separate WRC2 category.
"Congratulations to the ŠKODA crews, who all made it to the finish line. We are happy, that among
the nine cars of the WRC3 category, seven were competing with a FABIA. I feel sorry for Oliver and
Aaron. Under the most difficult road conditions, they delivered a promising performance until
unfortunately a puncture cost them a possible podium position. We are now looking forward to the
next event in the cooperation between Oliver's own team and us coming May in Portugal," said
ŠKODA Motorsport boss Michal Hrabánek.
Final Result Rally Sweden (WRC3)
1. Huttunen/Lukka (FIN/FIN), Hyundai i20 Rally2, 1:15:46.1 h.
2. Lindholm/Korhonen (FIN/FIN), ŠKODA FABIA Rally2 evo, +5.0 sec.
3. Kristoffersson/Skjærmoen (SWE/NOR), Volkswagen Polo GTI Rally2, +31.3 sec.
4. Pietarinen/Anttila (FIN/FIN), ŠKODA FABIA Rally2 evo, +1:12.2 min.
5. Solberg/Johnston (SWE/IRL), ŠKODA FABIA Rally2 evo, +2:23.2 min.
Championship Standings WRC3 (after 2 of 13 rounds)
1. Eric Camilli (FRA), Citroën, and Jari Huttunen (FIN), Hyundai, 25 points
3. Nicolas Ciamin (FRA), Citroën, and Emil Lindholm (FIN), ŠKODA,18 points
Number of the day: 9
Nine ŠKODA crews started Rally Sweden, they all made it to the finish, seven of them among the
nine finishers in the WRC3 category for private teams.
The calendar of the 2020 FIA World Rally Championship
Event Date
Monte-Carlo 23/01/–26/01/2020
Sweden 13/02/–16/02/2020
Mexico 12/03/–15/03/2020
Argentina 23/04/–26/04/2020
Portugal 21/05/–24/05/2020
Italy 04/06/–07/06/2020
Kenya 16/07/–19/07/2020
Finland 06/08/–09/08/2020
New Zealand 03/09/–06/09/2020
Turkey 24/09/–27/09/2020
Germany 15/10/–18/10/2020
Great Britain 29/10/–01/11/2020
Japan 19/11/–22/11/2020
Catherine Van Geel
PR Manager, D'Ieteren NV