ŠKODA AUTO continues to set records: one million vehicles already produced in 2018
October 17, 2018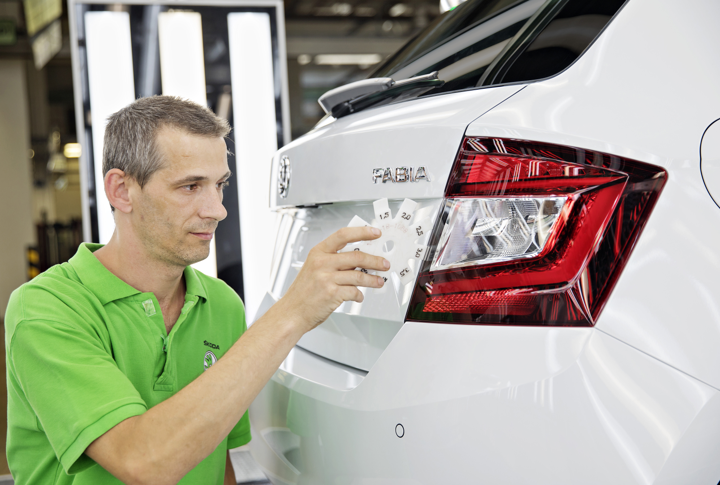 › Growth strategy: ŠKODA AUTO has produced its one millionth vehicle in mid-October –
earlier than ever before in the company's history
› Milestone vehicle: ŠKODA FABIA 1.0 TSI in Moon White
› Successful models: ŠKODA OCTAVIA and ŠKODA FABIA are the brand's bestsellers
› ŠKODA KODIAQ and ŠKODA KAROQ SUV model ranges provide further impetus for growth
Mladá Boleslav, 17 October 2018 – ŠKODA AUTO has produced its millionth vehicle for 2018
today, thereby reaching this milestone two weeks earlier than in 2017. This makes it the fifth
year in a row that the number of vehicles produced has reached seven figures. The ŠKODA
KODIAQ and KAROQ SUVs as well as the OCTAVIA and FABIA model ranges have significantly
contributed to this success.
Michael Oeljeklaus, ŠKODA AUTO Board Member for Production and Logistics, said, "The current
financial year shows that a modern model range allows ŠKODA to tap into new customer segments in
international markets in a sustainable way. In recent years, we have consistently increased our
production and sales, and we are now surpassing the one-million mark for an impressive fifth time in a
row. We're going to continue our growth strategy in 2019. Here, an important role is going to be played
by the new ŠKODA SCALA – a vehicle in the high-volume A segment that we have added to our
portfolio."
The millionth vehicle manufactured in this production year – a ŠKODA FABIA 1.0 TSI in Moon White –
rolled off the line today at the Mladá Boleslav plant. The recently comprehensively revised small car is
this year's most popular ŠKODA model range after the bestselling OCTAVIA.
The persistently high demand for the ŠKODA KODIAQ and ŠKODA KAROQ SUVs highlights the
success of the brand's SUV campaign. It is an important component in the Czech car manufacturer's
ever-increasing vehicle production and has played a significant role in ŠKODA reaching the onemillion
mark as early as mid-October this year. The ŠKODA KAMIQ, which is offered exclusively in the
Chinese market, adds to the SUV portfolio in the company's largest individual market. The recently
unveiled new ŠKODA KODIAQ GT – the second ŠKODA SUV to be exclusively available for the
Chinese market – is a key component of ŠKODA's SUV campaign in China.
The guidelines for continuing and adding to this success are anchored in ŠKODA's 2025 Strategy. The
strategy's key topics include electromobility, the digitalisation of the company, products and production
itself, as well as new mobility services and connectivity solutions. Alongside the successful SUV
campaign, its main focus is on electromobility, digitalisation and internationalisation. The aim is to
gradually increase the number of markets ŠKODA is active in from the current 103 to 120.
Catherine Van Geel
PR Manager, D'Ieteren NV