ŠKODA AUTO DigiLab now also in China
April 15, 2019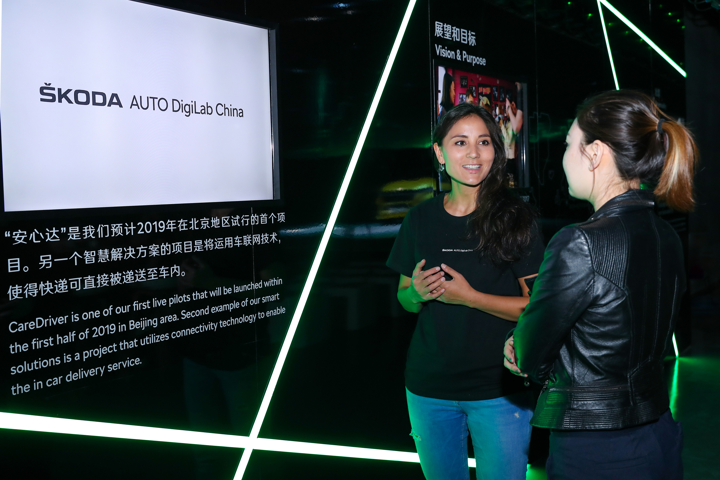 › ŠKODA AUTO DigiLab China is networking with the local start-up scene in Beijing,
developing mobility solutions and services
› Several projects are in their development phase, including an In-Car Delivery service and a
mobility service for those in need
› Close collaboration between ŠKODA AUTO DigiLab China, joint venture partner SAIC
VOLKSWAGEN and Volkswagen Group's innovation centres in China
Mladá Boleslav/Shanghai, 15 April 2019 – ŠKODA has founded another spin-off of its
innovation workshop in Beijing, called ŠKODA AUTO DigiLab China, which is networking with
the local start-up community to collaborate on projects. Here, the focus is on mobility of the
future, digitalisation as well as the development and implementation of new business models.
ŠKODA AUTO CEO, Bernhard Maier, said, "Our two DigiLabs are now firmly established in the startup
community both in Prague and in Tel Aviv. China is one of the world's drivers of innovation when it
comes to digitalisation. It's therefore only logical for us to now develop the next spin-off – ŠKODA
AUTO DigiLab China – to gain direct access to important future technologies there too."
President of ŠKODA China, Dr Ralf Hanschen, added, "With our new ŠKODA AUTO DigiLab China,
we are bringing our digital business and the next generation of mobility services into the local market.
As the youngest member of a growing global innovation network, the innovation centre will develop
mobility solutions and services for China, Europe and the rest of the world in future."
Having set up the new ŠKODA AUTO DigiLab China, the car manufacturer now also has a platform in
its largest single market in the world for developing new digital services and mobility solutions together
with top local start-ups and creative talent. The first of the three centres, the ŠKODA AUTO DigiLab in
Prague, was set up in early 2017; in January 2018, a spin-off commenced operation in the Israeli
IT hotspot of Tel Aviv – as a joint venture with the Israeli importer Champion Motors. Since the launch
of its two innovation workshops, ŠKODA has sustainably strengthened its digital development and
innovation expertise.
Over the course of this year, exciting projects are set to begin at ŠKODA AUTO DigiLab China, including
an In-Car Delivery service that enables goods to be delivered directly to the customer's boot of the car.
The team at ŠKODA AUTO DigiLab China is in intensive talks with potential delivery service partners to
begin testing and pilot projects.
Another project is the 'CareDriver' service for patients who require assistance with transport. Specially
trained drivers are to offer a door-to-door service in a ŠKODA KODIAQ or SUPERB to fill gaps in the
supply of transport for patients with mild disabilities, and, at the same time, cater to the desire of private
hospitals to make their patients' journey to the hospital more convenient and less stressful.
At the end of March, the first hackathon organised by ŠKODA China 'Clever mobility services for a
better life' came to an end in Beijing. A total of 88 participants competed against one another in various
categories at the two-day event, which was held in collaboration with the innovation platform and startup
incubator Innoway. Innoway is in the direct vicinity of some of the country's most prestigious
universities – in the centre of Beijing's Silicon Valley, Zhongguancun – and is an ideal partner for
ŠKODA in the implementation of its strategic plans there.
Across more than 40 projects, the ŠKODA AUTO DigiLabs address topics such as sharing economy,
mobility services, digitalisation, connectivity and e-mobility. A wide spectrum is covered, ranging from
the development of new ideas and concepts for optimising traffic flow to micromobility solutions for the
city.
Catherine Van Geel
PR Manager, D'Ieteren NV