ŠKODA AUTO trains staff for demands of electromobility
August 13, 2019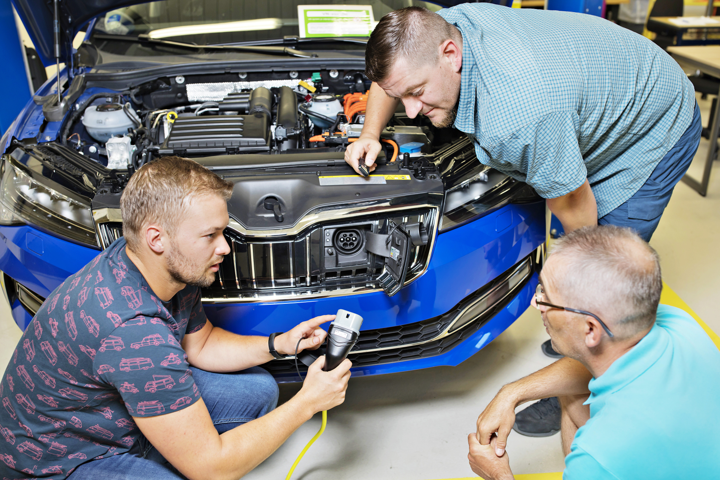 › Targeted e-mobility training since 2016
› Around 12,000 employees have already successfully completed this special training
programme at the ŠKODA Academy
› ŠKODA AUTO has launched a three-tier qualification programme for skilled staff
Mladá Boleslav, 13 August 2019 – Equipped for the future: ŠKODA AUTO is preparing its staff
and students as well as employees of its suppliers for the demands of electromobility in a
targeted and systematic way. Since the training programmes began in May 2016, more than
12,000 ŠKODA employees have already successfully completed the special courses.
Bohdan Wojnar, ŠKODA AUTO Board Member for Human Resources, said, "The introduction of
electromobility is bringing changes to many company departments. This places completely new
demands on our training and development programmes. The ŠKODA Academy not only offers
ŠKODA staff and suppliers a wide range of new training formats, the content has also been optimised
and completely realigned. Thanks to our state-of-the-art technologies and highly qualified staff who are
keen to learn, we are perfectly equipped for the future demands of electromobility."
The company's own ŠKODA Academy alone had already trained 12,000 employees by the end of
June 2019. Approximately 1,450 members of staff at supplier companies and around 700 students
also completed training courses. ŠKODA AUTO's Technical Training department developed the
content of the courses for the various target groups.
The Technical Training department at ŠKODA AUTO has been addressing electromobility for several
years now. Back in 2016, the ŠKODA Vocational School began offering special e-mobility programmes
for passenger car mechatronic and electronic engineers as well as electricians. Since 2017, all
students at the ŠKODA Vocational School have been given different electromobility training that is
precisely tailored to their relevant courses.
For skilled staff, ŠKODA AUTO has launched a three-tier qualification programme: The first tier takes
place exclusively in the classroom and is tailored towards employees that will be dealing with highvoltage
components in their future role, e.g. logistics or production staff.
The second tier can also be carried out without practical training on a vehicle. Target groups include
specialists such as body makers or painters who might work on an electric car.
The third tier takes place in the electromobility lab and consists of numerous practical sessions on a
real vehicle. This qualification tier is aimed at students and employees from specialist areas with a
primary focus on electronics who will also be working on vehicle systems. The training content
includes identifying and repairing defects in an electric car's wiring loom as well as in its high-voltage
components. As an extension to this third tier, ŠKODA AUTO is also training specialists in the
diagnosis of issues with high-voltage batteries.
In autumn 2019, ŠKODA AUTO will begin serial production of components for electric Volkswagen
Group vehicles at its main plant in Mladá Boleslav. The high-voltage batteries made in Mladá Boleslav
will be used in plug-in hybrids based on the modular transverse matrix (MQB).
Catherine Van Geel
PR Manager, D'Ieteren NV