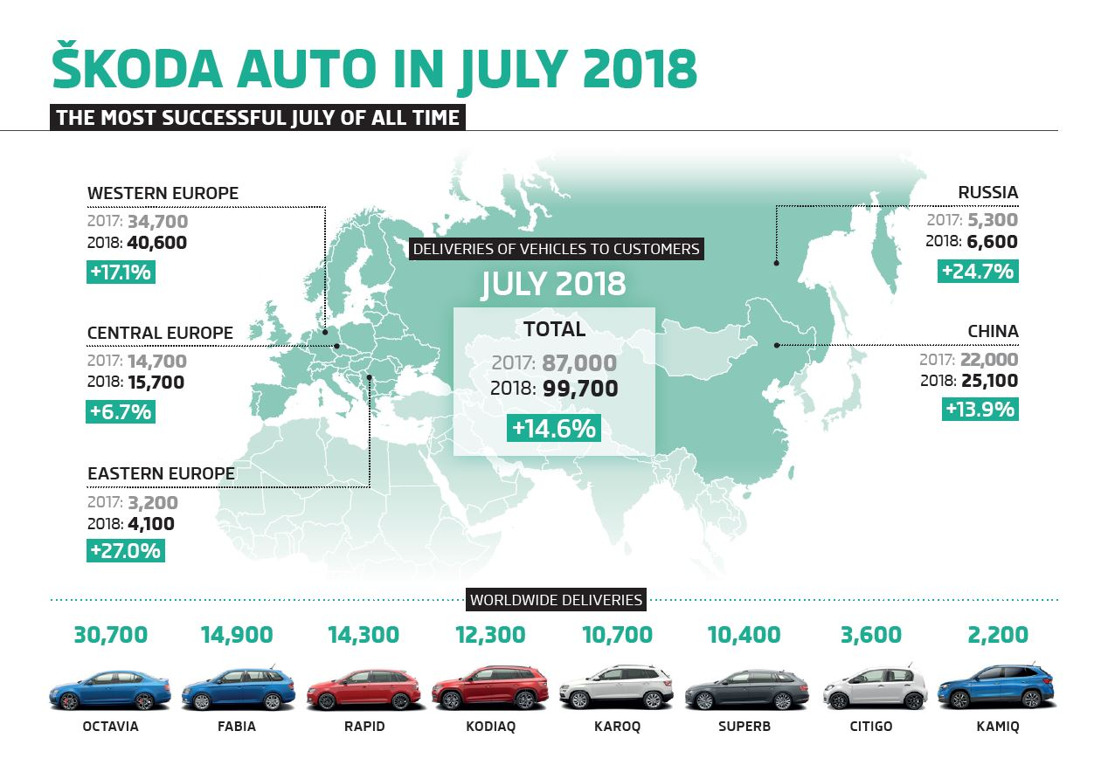 ŠKODA continues on course for growth in July
Tuesday, August 14, 2018 — › Deliveries: ŠKODA delivers 99,700 vehicles to customers worldwide in July (+14.6%)
› Markets: ŠKODA grows strongly in Europe (+15.7%) and in the growth markets of Russia
(+24.7%), China (+13.9%) and India (+12.7%)
› ŠKODA OCTAVIA remains the brand's bestseller; KODIAQ and KAROQ SUV models continue
to be important growth drivers
Mladá Boleslav, 14 August 2018 – ŠKODA made a strong start to the second half of the year,
delivering 99,700 vehicles to customers worldwide in July, and exceeding last year's car
deliveries by 14.6% (July 2017: 87,000 vehicles). Alongside Europe (+15.7%), ŠKODA made
considerable gains in Russia (+24.7%), China (+13.9%) and India (+12.7%). In addition to the
bestseller OCTAVIA, the ŠKODA KODIAQ and KAROQ SUV models once again guaranteed the
brand would remain on course for growth. The new ŠKODA KAMIQ enjoyed great popularity in
July: ŠKODA delivered 2,200 of the compact SUV in the first full month of sales following its
launch on the world's most important single market – China.
Alain Favey, ŠKODA AUTO Board Member for Sales and Marketing emphasizes: "Following the
record result in the first half of the year, ŠKODA's growth has also continued in July. We expect further
growth impetus in the coming months, not least due to the launch of the comprehensively updated
ŠKODA FABIA. By the beginning of August, the first units had already left the assembly line at our
main plant in Mladá Boleslav."
In Western Europe, ŠKODA delivered 40,600 vehicles to customers in July, an increase of 17.1%
over the same month last year (July 2017: 34,700 vehicles). In the largest single European market –
Germany – the car manufacturer grew by a strong 45.2%, with deliveries rising to 16,000 vehicles
(July 2017: 11,000 vehicles). ŠKODA also posted double-digit growth rates in Spain (2,400 vehicles,
+38.0%), France (2,400 vehicles, +32.0%), Austria (2,400 vehicles, +40.6%), Switzerland (1,300
vehicles, +18.4%), Belgium (1,300 vehicles, +45.7%) and the Netherlands (1,100 vehicles, +67.0%).
In Central Europe, deliveries were 6.7% above the previous year's level at 15,700 vehicles (July
2017: 14,700 vehicles). Delivering 7,200 vehicles, the Czech brand recorded a slight increase in its
domestic market compared to the same period last year (July 2017: 6,900 vehicles, +3.4%). In
Hungary (1,300 vehicles, +39.8%) and Croatia (500 vehicles, +56.2%), the brand achieved doubledigit
growth rates.
In Eastern Europe excluding Russia, ŠKODA grew strongly overall, with vehicle sales rising to 4,100
units (July 2017: 3,200 vehicles, +27.0%). Significant growth was recorded in Romania (1,300
vehicles, +19.2%), Serbia (600 vehicles, + 41.2%), Bulgaria (400 vehicles, +144.7%) and Bosnia and
Herzegovina (100 vehicles, +38.9%).
In Russia, deliveries to customers increased to 6,600 vehicles – growth of 24.7% over the same
period last year (July 2017: 5,300 vehicles).
The carmaker also made positive developments in China, ŠKODA's largest single market worldwide.
The traditional Czech brand increased its July sales by 13.9% to 25,100 vehicles (July 2017: 22,000
vehicles).
In Israel, deliveries to customers exceeded the previous year's figure by 6.5%, with ŠKODA selling
2,100 vehicles in the region in July (July 2017: 1,900 vehicles).
ŠKODA AUTO is also making significant gains in the growth market of India. With 1400 vehicles, the
traditional Czech brand increased its deliveries by 12.7% compared to the same month last year (July
2017: 1,200 vehicles).
ŠKODA brand deliveries to customers in July 2018 (in units, rounded off, listed by model; +/- in
percent compared to July 2017):
ŠKODA OCTAVIA (30,700; +3.6%)
ŠKODA FABIA (14,900; +4.5%)
ŠKODA RAPID (14,300; -2.8%)
ŠKODA KAROQ (10,700; –)
ŠKODA YETI (700; -86.3%)
ŠKODA KODIAQ (12,300; +22.6%)
ŠKODA SUPERB (10,400; -7.4%)
ŠKODA CITIGO (only sold in Europe: 3,600; +75.6%)
ŠKODA KAMIQ (2,200; –)
Catherine Van Geel PR Manager, D'Ieteren NV