ŠKODA Motorsport celebrates with 30 title wins the most successful year in its history
December 11, 2019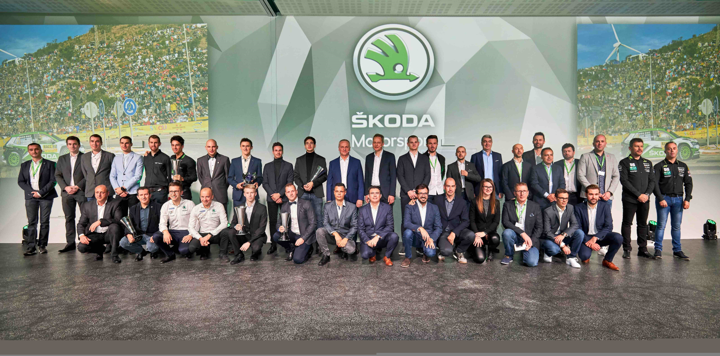 › ŠKODA Motorsport is looking back to an outstanding 2019 season in the FIA World Rally
Championship, winning all titles of the WRC 2 Pro category
› Season's end gathering in Prague also celebrated five FIA rally championships and 23
national titles won by ŠKODA customer teams
› 2019 WRC 2 Pro drivers' and co-drivers' champions Kalle Rovanperä and Jonne Halttunen
leave ŠKODA Motorsport after two successful years
Mladá Boleslav/Prague, 11 December 2019 – During the annual motorsport press conference
in Prague ŠKODA Motorsport reflected on the most successful year in its 118 years of
history. Kalle Rovanperä and Jonne Halttunen (FIN/FIN) won the WRC 2 Pro drivers' and codrivers'
title of the FIA World Rally Championship 2019 as well as substantially supporting
ŠKODA Motorsport to win the WRC 2 Pro manufacturers' title. After two successful years,
they will leave the Czech factory team, heading for a new challenge. Also in 2019, ŠKODA
customer teams conquered five FIA championships and took additional 23 national titles
around the world.

In spring 2019, the Czech brand introduced the ŠKODA FABIA R5 evo. The new rally car was a
winner right from the start. Factory crew Kalle Rovanperä/Jonne Halttunen won both WRC 2 Pro
drivers' and co-drivers' championship of the 2019 FIA World Rally Championship. At the same time,
ŠKODA Motorsport took the WRC 2 Pro manufacturers' title, also thanks to the support of Jan
Kopecký, co-driven by Pavel Dresler and Jan Hloušek respectively. ŠKODA customer crew Pierre-
Louis Loubet/Vincent Landais (FRA/FRA) won the WRC 2 championship for private teams.

The success story of the Czech brand again took place worldwide. Driving a ŠKODA FABIA R5,
Chris Ingram/Ross Whittock (GBR/GBR) won FIA European Rally Championship (ERC). Filip
Mareš/Jan Hloušek (CZE/CZE) took the FIA European Rally Championship/ERC1 Junior title.
Manvir Singh Baryan/Drew Sturrock (KEN/GBR) powered a ŠKODA FABIA R5 to the FIA African
Rally Championship (ARC), while Ricardo Triviño/Marc Martí (MEX/ESP) won the FIA North
American and Central American Rally Championship (NACAM). On top of that, ŠKODA crews
conquered 23 national championships.

The successful campaign of the factory team in international rallying also acts as a catalyst for
customer interest, which is growing by the day. To date, more than 320 ŠKODA FABIA R5 rally
cars have been sold to privateer teams and ŠKODA importers around the world. "This impressive
number of sales means a big responsibility towards our customers," emphasizes ŠKODA
Motorsport Director Michal Hrabánek
After a successful 2019, Christian Strube, Head of Technical Development ŠKODA AUTO, gave an
outlook to the future and emphasized: "An even bigger focus will be on our customers – and we will
support young drivers, as we have already successfully done in the past. With our fast and reliable
ŠKODA FABIA R5 evo, we have the right car to compete on a top level on the rally tracks
worldwide and to make the 119th year in our motorsport history together with our great team
successful again!"

ŠKODA Motorsport Director Michal Hrabánek bid farewell to Kalle Rovanperä and Jonne Halttunen,
who are not competing with ŠKODA any more: "We had two successful seasons with Kalle and
Jonne; it was a pleasure to have them in our team. We wish them all the best for their future. Now
we are fully concentrated on preparing the next rally season properly."
S19-27F - All titles (22p).pdf
PDF - 1.8 Mb
Download
S19-27F - All titles.docx
DOCX - 1.3 Mb
Download
S19-27N - All titles (20p).pdf
PDF - 1.5 Mb
Download
S19-27N - All titles.docx
DOCX - 313 Kb
Download
Catherine Van Geel
PR Manager, D'Ieteren NV