ŠKODA SCALA: First pictures of the interior
November 29, 2018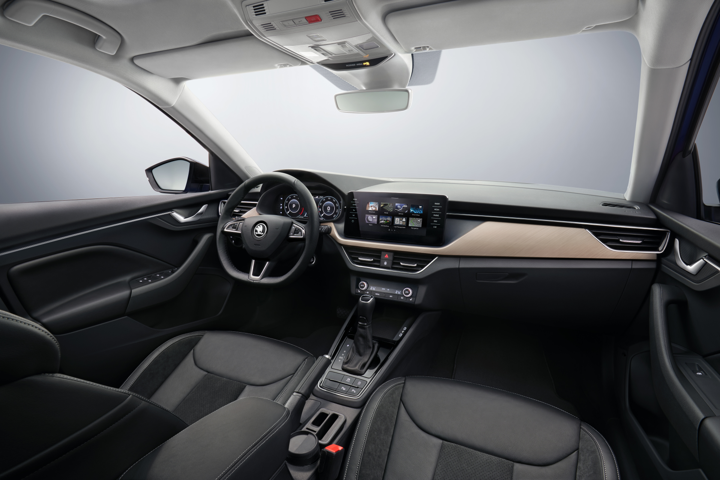 Redesigned dashboard echoes the emotive design language of the exterior
Virtual Cockpit and infotainment systems with largest displays in this class
Save the date: World premiere of the ŠKODA SCALA on 6 December in Tel Aviv
Mladá Boleslav, 29 November 2018 – A good week before the world premiere in Tel Aviv, ŠKODA has released first photos of the interior of the ŠKODA SCALA. The Czech brand's new interior concept follows the overall direction set by the ŠKODA VISION RS concept car. The SCALA will be the first ŠKODA production model to feature this emotive design language, blending ergonomics and emotional appeal in a way that's characteristic of the brand. Key elements include a central display positioned high up in the driver's field of vision and a redesigned instrument panel.
Norbert Weber, Head of Interior Design at ŠKODA AUTO, says: "The new ŠKODA SCALA is the first production model to feature our new interior concept, introducing an updated design language alongside new colours and materials. Its premiere in the SCALA marks the beginning of a new brand identity for ŠKODA, which is as emotive as it is functional."
The focal point of the interior concept in the ŠKODA SCALA is the display – with a size of up to 9.2 inches, it's the largest in this vehicle segment and perfectly positioned in the driver's and front passenger's field of vision. This free-standing, central display is framed by a character line that echoes the emotive contours of the bonnet. Below the display, this line also creates an ergonomic wrist rest for operating the touchscreen.
The controls for the air conditioning in the centre console and the buttons for the start/stop system, Driving Mode Select and Park Assist right in front of the gear shift lever are likewise well placed and within comfortable reach. The lateral air vents extend into the doors and amplify the visual impression of width, adding to the generous sense of space.
The dashboard and front door trim panels feature a sophisticated soft-foam surface with a specific new grain texture. This emulates crystalline structures and will define the ŠKODA brand's style in the future.
The world premiere of the ŠKODA SCALA will take place on 6 December in Tel Aviv / Israel and will be livestreamed on the ŠKODA Storyboard site as well as a number of the brand's social media channels.
Catherine Van Geel
PR Manager, D'Ieteren NV