ŠKODA SCALA in camouflage look at Lennon Wall in Prague
November 29, 2018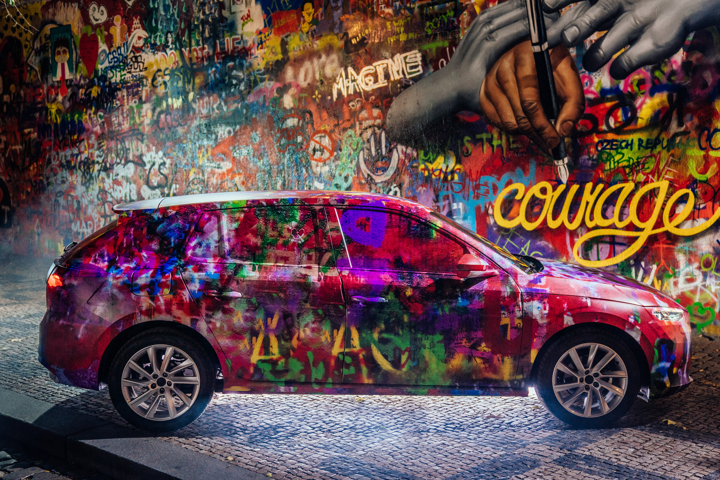 › Camouflaged ŠKODA SCALA plays starring role in art project
› Video on ŠKODA Storyboard gives fascinating insight into street art culture Video
Mladá Boleslav, 29 November 2018 – Czech street artist Chemis has given the ŠKODA
SCALA an extravagant camouflage look. The new compact model, which celebrates its
world premiere in Tel Aviv in a week, became a tourist magnet at Lennon Wall near Charles
Bridge in Prague.
What seems like a normal urban graffiti area has its own story and is named after John Lennon.
The singer was a hero of Czechoslovakian youth because, during communism in former
Czechoslovakia, western music was banned. Since that time, the colourful wall of street art in Malá
Strana in Prague, has been a symbol of the importance of one's own opinion and the courage to
express one's convictions freely. Czech street artist Chemis and New York-based photographer
and influencer Dave Krugman, who have combined the symbolism of this place in a surprising way
with the new ŠKODA SCALA, met here to create a spectacular video. They gave the new compact
model the leading role in a unique piece of street artwork.
In addition to the video, you can also find photos and interviews with the protagonists on ŠKODA
Storyboard.
Catherine Van Geel
PR Manager, D'Ieteren NV