ŠKODA's WRC 2 champion Jan Kopecký wins GP Ice Race ahead of junior Julian Wagner
January 21, 2019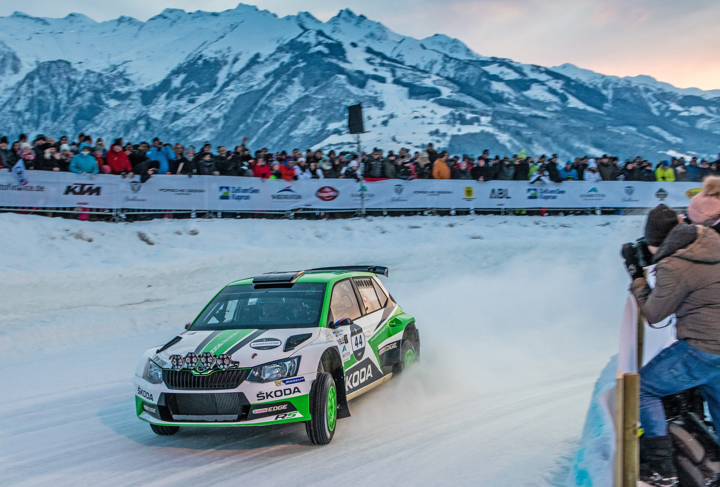 › Unique event on an ice track in Zell am See/Austria saw a double ŠKODA victory
› ŠKODA works driver and WRC 2 champion Jan Kopecký won on both days and also took
the overall category victory with his ŠKODA FABIA R5
› Record German Rally Champion Matthias Kahle entertained the crowds drifting a historic
ŠKODA 130 RS over the frozen tracks of a former airfield
Zell am See, 20 January 2019 – At the GP Ice Race in Zell am See (19 and 20 January 2019)
ŠKODA factory driver Jan Kopecký was in a class of his own. On day one of the event,
powered his ŠKODA FABIA R5 to class win ahead of Volkswagen driver Romain Dumas.
Sunday saw a double ŠKODA victory. Kopecký won the day two race and the overall
competition ahead of Austrian BRR junior Julian Wagner, both driving a ŠKODA FABIA R5.
Seven times German Rally Champion Matthias Kahle entertained the thousands of
spectators on the ice track in Zell am See/Austria with a 140 horse power, rear wheel driven
ŠKODA 130 RS.
"It was really amazing to compete here with my ŠKODA FABIA R5 on ice and snow. Even in the
car I could feel the enthusiasm of the fans," said reigning WRC 2 champion Jan Kopecký. On a
demonstration run on Saturday, he was supported by a very special co-driver. Bernhard Maier,
Chairman of the Board of Management ŠKODA Auto, enjoyed the ride from the passenger seat of
the ŠKODA FABIA R5.
Promising Austrian 23 year old junior Julian Wagner, driving a ŠKODA FABIA R5 from Austrian
team BRR Baumschlager Rallye&Racing, impressed with his speed on ice and snow already two
weeks ago by winning the first round of the national series, the Jaennerrallye. In Zell am See, he
finished the final heat behind works driver Jan Kopecký.
"We never expected such a tremendous success, when we decided to re-invent the legendary Ice
race in Zell am See after a long slumber of 45 years with a modern interpretation. The competition
of the modern R5 cars was really a highlight for our fans," emphasized Ferdinand Porsche, together
with Vinzenz Greger founder of the GP Ice Race in Zell am See.
The GP Ice Race featured modern and historic race- and rally cars form all decades of motorsport
history. Seven times German Rally Champion Matthias Kahle was one of the stars amongst the
group of historic race cars, driving a lightweight ŠKODA 130 RS, featuring rear wheel drive and 140
horse power, mostly sideways around the ice track in Zell am See.
Final Result GP Ice Race (R5 category)
1. Jan Kopecký (CZE), ŠKODA FABIA R5, 1.24.400 Min.
2. Julian Wagner (AUT), ŠKODA FABIA R5, +1.145 sec.
3. Romain Dumas (FRA), Volkswagen Polo GTI R5, +1.945 sec.
4. Jürgen Knobloch (AUT), ŠKODA FABIA R5, +3.859 sec.
Number of the day: 16
Two ŠKODA drivers, which took part at the GP Ice Race, represented 16 titles. ŠKODA works
driver Jan Kopecký won the Czech Rally Championship six times plus titles in the European Rally
Championship (ERC), the Asian Pacific Rally Championship (APRC) and the WRC 2 category of
the FIA World Rally Championship. Matthias Kahle won the German Rally Champion seven times.
Catherine Van Geel
PR Manager, D'Ieteren NV