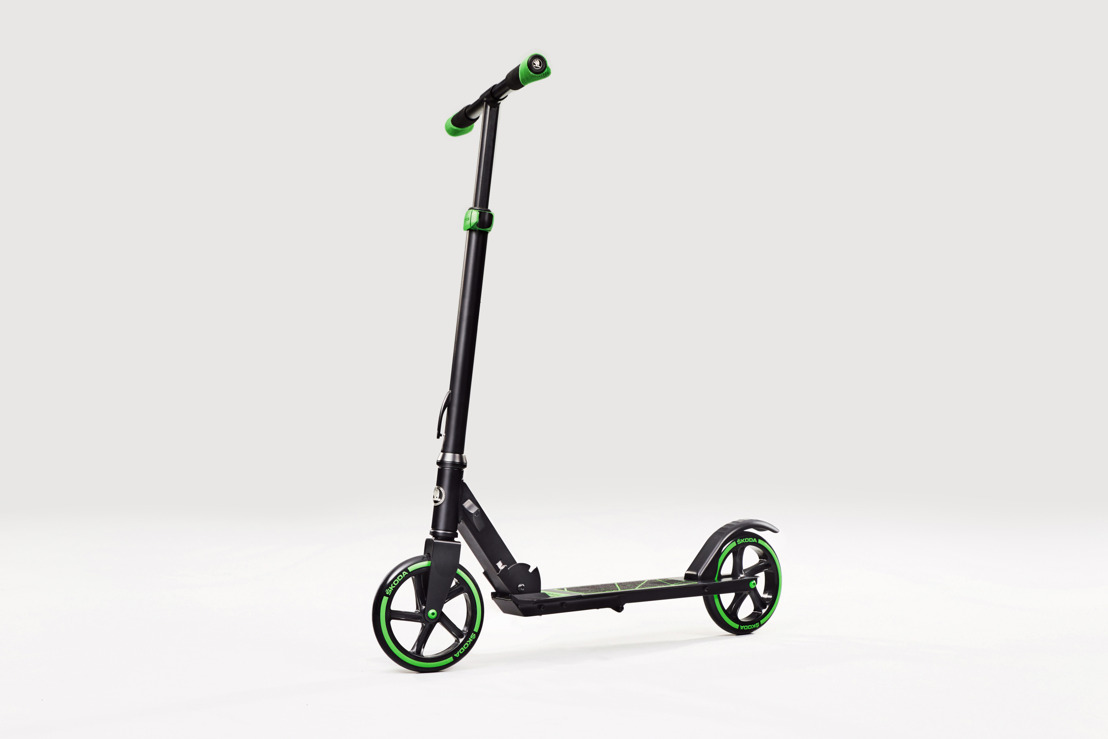 Sustainable and uncomplicated mobility for the final mile: ŠKODA AUTO presents a new scooter concept at the Geneva Motor Show 2018
Friday, March 2, 2018 —
› ŠKODA AUTO offers a sustainable mobility solution for transport in urban traffic
› Patented 'Simply Clever' folding mechanism allows stowage without reducing the boot volume
› Unique design with characteristic ŠKODA colour scheme and crystalline elements
Mladá Boleslav, 2 March 2018 – The Czech automobile manufacturer will be presenting a 'Simply Clever' solution for sustainable mobility in the city. The new ŠKODA scooter concept comes with a patented folding mechanism that can be stowed in the spare wheel recess in the rear of the ŠKODA OCTAVIA and ŠKODA SUPERB. The concept will be presented for the first time at the International Geneva Motor Show (6 – 18 March 2018).
The new ŠKODA scooter concept is a practical and efficient solution for the 'final mile' from the parking space to the destination and the 'first mile' back to the vehicle. It provides environmentally friendly and uncomplicated mobility on the commute to work, on a shopping trip or on the way home.
The scooter's patented 'Simply Clever' folding mechanism is typically ŠKODA. It allows the scooter to be stowed under the luggage compartment of the ŠKODA OCTAVIA and ŠKODA SUPERB without comprising the total luggage volume. Thanks to the modification of the storage, it can be placed above the spare wheel, the wheel brace, the car jack, the tool box or the spare bulb kit. When the new ŠKODA scooter concept is folded up, it only measures 41cm high and 48 cm long.
The scooter concept made of aluminium alloy weighing just five kilograms but is capable of carrying a weight of up to 100 kilograms. High-quality bearings and wheels in polyurethane guarantee an equally fast and comfortable riding experience. Rubberised steering grips ensure agile and safe handling. The colour and styling of the new scooter have the unmistakable signature of ŠKODA design.
The new ŠKODA scooter is expected to be available for the ŠKODA OCTAVIA and ŠKODA SUPERB in the second half of 2018.