The ŠKODA SCALA world premiere in Tel Aviv in pictures
December 6, 2018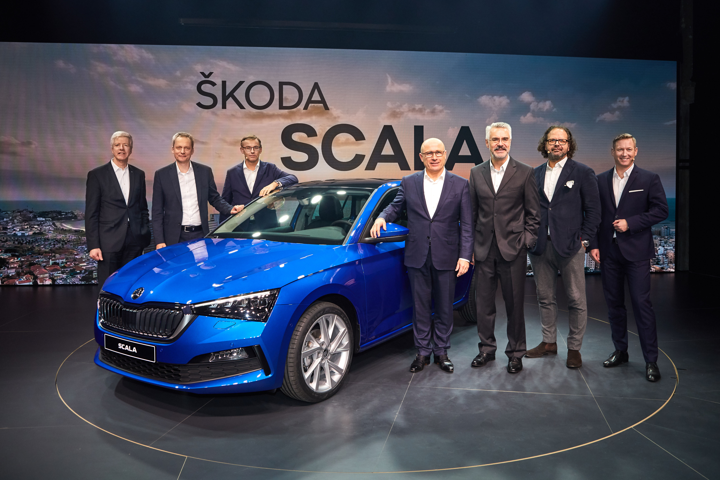 › ŠKODA's new compact model rolls into the spotlight for the first time
› Unveiling with around 400 international guests in start-up metropolis in the Mediterranean
› Next big step in the evolution of ŠKODA's design language
Mladá Boleslav/Tel Aviv, 6 December 2018 – Curtain up for ŠKODA's new compact model:
The new ŠKODA SCALA celebrated its world premiere in Tel Aviv this evening. The
presentation in Petah Tikva, a suburb of Tel Aviv, impressed not only the 400 guests
present; hundreds of thousands watched the world premiere via livestream on the Internet.
You can find photographs of the ŠKODA SCALA world premiere at: https://www.skodastoryboard.
com/.
The approximately 45-minute presentation is available at:
https://www.youtube.com/watch?v=xTqXrrZ9rlU
The ŠKODA SCALA press kit with vehicle photographs and videos can be downloaded from
the ŠKODA Storyboard.
With a new character, new technology and a new name, the ŠKODA SCALA completely redefines
the compact car segment for the Czech brand. The fitting name 'SCALA' comes from the Latin for
'stairs' or 'ladder'. The hatchback combines an emotive design with a high level of functionality as
well as state-of-the-art connectivity, and transfers the sensational design language of the VISION
RS concept study into a production vehicle for the first time. A selection of five engine variants is
available, with power outputs ranging from 66 kW (90 PS) to 110 kW (150 PS). In addition, the
SCALA offers a high level of active and passive safety, full-LED headlights and tail lights, plenty of
space for luggage and passengers, as well as numerous Simply Clever features. It will be launched
on the market in the first half of 2019.
181206_SKODA_SCALA_Press_Kit.pdf
PDF - 846 Kb
Download
S18-27N - Presskit SCALA (18p).pdf
PDF - 351 Kb
Download
S18-27F - Presskit SCALA (18p).pdf
PDF - 300 Kb
Download
Catherine Van Geel
PR Manager, D'Ieteren NV