'Uniqway' car-sharing platform commences day-to-day operations
October 17, 2018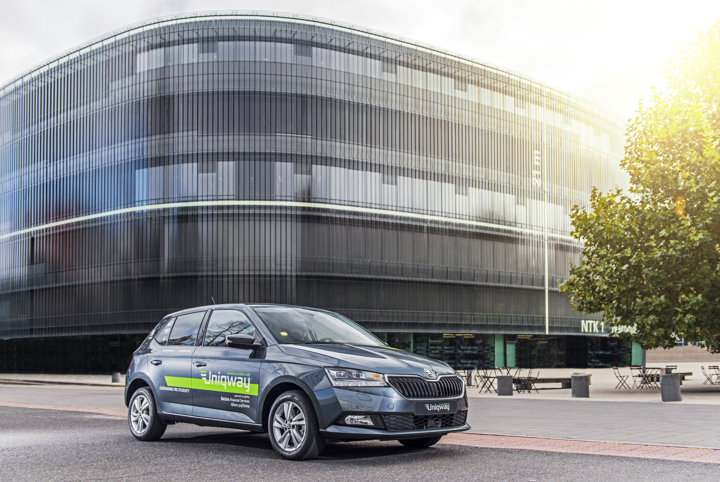 › Students from three universities in Prague have developed a car-sharing concept that is
unique in Europe
› ŠKODA AUTO Czech Republic and ŠKODA AUTO DigiLab are supporting the project's
implementation
Mladá Boleslav, 17 October 2018 – Following successful trials, 'Uniqway', the car-sharing
platform for students that is unique in Europe, is starting day-to-day operations. The service
is now available to all students and teaching staff from the Czech Technical University, the
University of Economics in Prague as well as from the Czech University of Life Sciences.
ŠKODA AUTO Czech Republic and ŠKODA AUTO DigiLab allowed this platform to be
developed.
The fee for renting a car is calculated based on the amount of time it is used for and the distance
travelled. The rate is around 29 CZK (1.20 EUR) per hour plus 4.90 CZK (0.20 EUR) per kilometre.
However, the longer the rental period, the cheaper it becomes, for example when using a car for
greater distances or day trips. An international 'ISIC' student ID card – available for every student –
is required to use the service. After registering for free, students can search for and reserve a car
via the app.
With 'HoppyGo', ŠKODA AUTO DigiLab operates one of the largest peer-to-peer car-sharing
services in the Czech Republic.
Further information about the 'Uniqway' car-sharing platform can be found on ŠKODA Storyboard.
Catherine Van Geel
PR Manager, D'Ieteren NV