World premieres in Bratislava: ŠKODA presents e-mobility sub-brand iV as well as CITIGOe iV and SUPERB iV
May 23, 2019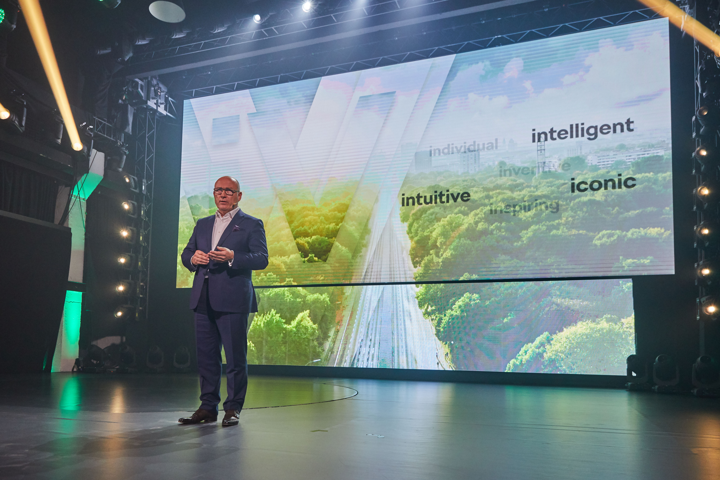 › ŠKODA combines electric vehicles and holistically networked ecosystem under iV subbrand
› ŠKODA CITIGOe iV: First all-electric vehicle in ŠKODA AUTO's history
› ŠKODA SUPERB iV: First ŠKODA model with plug-in hybrid drive
› ŠKODA SUPERB SCOUT: Robust lifestyle-oriented equipment line now available for first
time in the SUPERB
› ŠKODA SUPERB: Visual and technological upgrade for the flagship
Mladá Boleslav, 23 May 2019 – ŠKODA AUTO premieres: This is the first occasion the Czech
car manufacturer has used its long-term sponsorship of the IIHF Ice Hockey World
Championship to stage a vehicle presentation. On the day of the quarter-finals, ŠKODA
presented its new e-mobility sub-brand iV in the Slovakian capital of Bratislava. The
manufacturer also presented the CITIGOe iV and the SUPERB iV, the first two electrified
series models in the company's history. The brand has officially entered the era of
electromobility. In addition, ŠKODA took the opportunity at the sporting event to present its
revised flagship SUPERB and SUPERB SCOUT to the public for the first time.
With the e-mobility sub-brand iV, the Czech manufacturer has begun a new chapter in its rich 124-
year history. In addition to forming an electric product family, ŠKODA iV also includes a holistic,
networked ecosystem to make e-mobility as simple and convenient as possible for ŠKODA
customers. The all-electric ŠKODA CITIGOe iV and the new ŠKODA SUPERB iV with plug-in
hybrid drive are the manufacturer's first models in the era of e-mobility. The new ŠKODA SUPERB
SCOUT, which also made its debut in Bratislava, extends the successful SUPERB family with
visual and technological enhancements.
Press_Kit_SKODA_iV.pdf
PDF - 578 Kb
Download
ŠKODA CITIGOe iV Footage....mp4
MP4 - 206 Mb
Download
ŠKODA SUPERB FOOTAGE TEASER.mp4
MP4 - 37 Mb
Download
ŠKODA SUPERB iV Footage....mp4
MP4 - 356 Mb
Download
ŠKODA SUPERB LAURIN & KLEMENT FOOTAGE.mp4
MP4 - 771 Mb
Download
ŠKODA SUPERB SCOUT FOOTAGE.mp4
MP4 - 998 Mb
Download
CITIGOe_iV_Dimensions.pdf
PDF - 1.6 Mb
Download
CITIGOe_iV_Highlights.pdf
PDF - 1.8 Mb
Download
CITIGOe_iV_Technical_overview.pdf
PDF - 1.8 Mb
Download
SUPERB_COMBI_Dimensions.pdf
PDF - 1.8 Mb
Download
SUPERB_Dimensions.pdf
PDF - 1.8 Mb
Download
SUPERB_Exterior.pdf
PDF - 1.9 Mb
Download
SUPERB_Interior.pdf
PDF - 3.1 Mb
Download
SUPERB_iV_Technical_overview.pdf
PDF - 1.7 Mb
Download
SUPERB_L&K_Exterior.pdf
PDF - 2.1 Mb
Download
SUPERB_L&K_Interior.pdf
PDF - 2.6 Mb
Download
SUPERB_SCOUT_Exterior.pdf
PDF - 2.0 Mb
Download
SUPERB_SCOUT_Interior.pdf
PDF - 2.3 Mb
Download
SUPERB_SPORTLINE_Exterior.pdf
PDF - 1.9 Mb
Download
SUPERB_SPORTLINE_Interior.pdf
PDF - 3.1 Mb
Download
Catherine Van Geel
PR Manager, D'Ieteren NV